Posted on
April 28th, 2010
by als
Level: Grades 5-8. Deadline: May 27, 2010.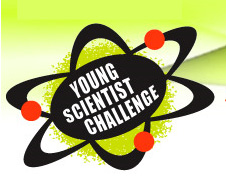 Discovery Education 3M Young Scientist Challenge is a national science competition for students in grades 5 through 8, encouraging the exploration of science and innovation among America's youth and promoting the importance of science communication. Over the past ten years, more than 600,000 middle school students have been nominated to participate in the competition, and winners have gone on to speak in front of members of Congress, work with the nation's top scientists, and pursue academic careers in the sciences.
How To Enter
Students are challenged to create a one- to two-minute video about a specific scientific concept that they will select from a list of concepts provided by YSC judges. Video entries will be due May 27, 2010.
Video entries must demonstrate the student's understanding of the scientific concept explained and should also exhibit his or her comfort level discussing science in general.
Over the summer, judges will review the video submissions and choose up to 51 semifinalists: one from each state and the District of Columbia.
The Finals
In the fall, 10 finalists will receive an all-expense-paid trip to the competition finals, consisting of a series of scientific challenges designed for students in grades 5 through 8. Finalists will be judged on their scientific problem solving and communication skills.
Prizing
America's Top Young Scientist will be awarded $50,000 in U.S. savings bonds (a $25,000 cash value), and other finalists will receive exciting prizes.
For more information, and online registration, please visit the Website.
Filed under: Grades 6-8, K-12 Outreach Programs
Tags: e-Videos, grades 5-8, Science Contest