Posted on
November 12th, 2010
by Jaimie Schock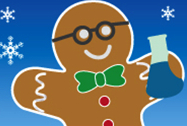 Location: Discovery Science Center, 2500 N. Main Street, Santa Ana, CA. Submission Dates: November 20-29, 2010.
"The Science of Gingerbread"
2010-11 Contest
The Discovery Science Center in Santa Ana, CA, is seeking delectable gingerbread creativity from children, adults, businesses, and organizations. Try your hand at creating a delicious masterpiece out of gingerbread, icing, and other edibles in this year's competition. Submissions will be accepted Nov. 20-29, 2010 and on display November 26, 2010 – January 2, 2011.
What's in it for participants?
An exclusive Gingerbread party to kick off the festivities
A unique holiday team building experience
An opportunity to display your logo/organization in Discovery Science Center for 6 weeks
A chance to win cash prizes in the several categories.
Visit the Center's gingerbread fact page to learn about the spice, including its use during the Crusades as a food preservative and medicine, and 16th-century English gingerbread "portraits."

2010-2011 Gingerbread Contest Dates
Bring Your Entry to Discovery Science Center: November 20-29, 2010; 11am – 4pm (Please note that the Center is CLOSED on Nov. 25, Thanksgiving Day)
Gingerbread Houses on Display: November 26, 2010 – January 2, 2011
Winner Announcement: Friday, December 10 at the Participants Awards Party
Entry and Submissions
Please see the Website for Contest Rules and Regulations
View Competition Ideas & Examples
Filed under: Grades 6-8, Grades 9-12, Grades K-5, K-12 Outreach Programs
Tags: Building Design, Contest, Events, Fun Stuff