Posted on
June 25th, 2013
by Mary Lord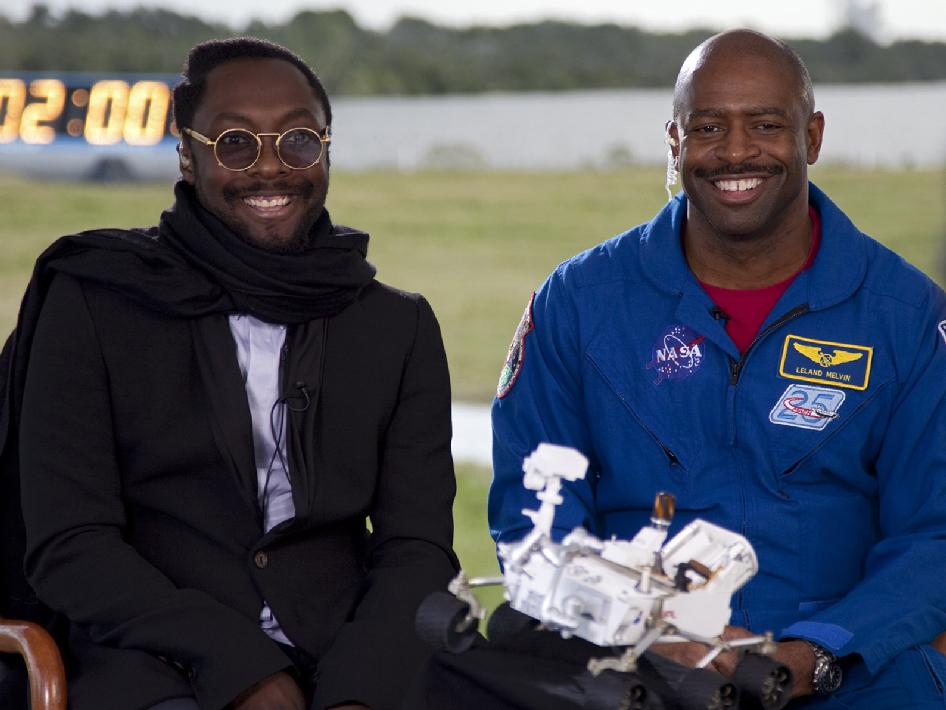 Rapper will.i.am with NASA astronaut Leland Melvin
Who says science and engineering is for nerds? Not rapper will.i.am. He's keen to study computer science and has enrolled in a course at the California Institute of the Arts in Los Angeles this fall. You could take an Introduction to Programming for Musicians and Digital Artists with him  – it's a free online class known as a MOOC (massive open online course).
"Code writers, they are my idols," the Black Eyed Peas star told Britain's Mirror. "Songwriters are cool – I can write songs, too – and bloggers are cool but code writers? Those are the coolest in the world."
Will.i.am has long been known as a tech fan. He became the first person on Earth to have a hit tune beamed from another planet when the Mars Curiosity Rover played his "Reach For The Stars" in August, 2012. [See NASA's video of him talking to students with NASA astronaut Leland Melvin.] He also has a foundation and blog to promote science, technology, engineering, arts, and math (STEAM) education, and has urged inner-city kids to change their lives and their 'hoods by learning science and being like Facebook inventor Mark Zuckerberg.
Lately, will.i.am has become "fascinated" by quantum physics, he told Canadian TV. He also has teamed up with Discovery Education on a new STEAM program and has a comic coming out in July called Wizards & Robots. It tells the tale of time-traveling robots that journey through space in search of ancient wizards, with the fate of the Earth hanging in the balance.
Will.i.am went to a science magnet school an hour away from his home, and might have studied quantum physics had music not become his passion. He says computer scientists are rock stars in a tech-driven industry like entertainment. In fact, he employs hundreds of engineers and technicians. An artist writing his own computer code? Call it the Boom Boom Pow app!
Filed under: Computer, e-News, Explore Engineering, K-12 Outreach Programs
Tags: Computer Science, quantum physics, Robotics, rock star, STEM e, will.i.am