Posted on
May 27th, 2011
by jxh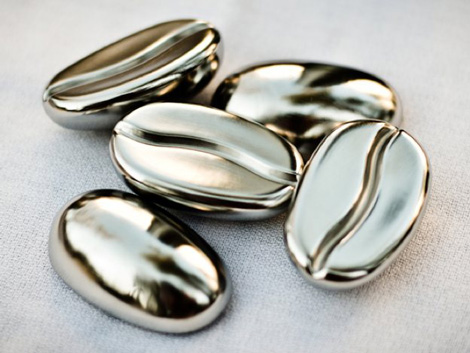 People in the United States consume 400 million cups of coffee per day, and many often face the dilemma of either scalding one's mouth with coffee that is too hot or waiting… and waiting… for it to cool to proper temperature.
In order to keep coffee at a perfect 140 degrees Fahrenheit, two 20-something mechanical engineers who were childhood friends have designed bean-shaped steel shells called Coffee Joulies that cool down coffee and keep it at a warm, drinkable temperature for up to five hours.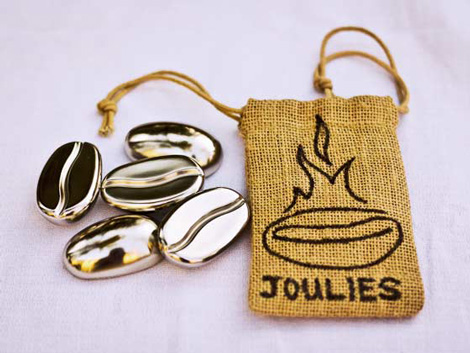 A special proprietary substance called a Phase Change Material, or PCM, is sealed inside the polished shells. Like ice, the PCM inside the Coffee Joulie changes from a solid to a liquid and absorbs any excess heat, cooling down the temperature of the coffee. As the liquid cools, however, the PCM starts to solidify again and releases the absorbed heat back into the liquid to keep the drink at a near-perfect, warm temperature.
About the size of an egg, Coffee Joulies are coated with durable stainless steel. To determine how many Coffee Joulies are needed, it is recommended that one Coffee Joulie be used for every five ounces of volume (so a double espresso would need one, while a mug would need two and a tall coffee would need three.)
The creators launched their idea on the grassroots-fundraising web site Kickstarter.com with the goal of raising $9,500. The product was so successful, however, that they made over $300,000 and are now rushing into production to meet demand for the 10,000 sets ordered by investors from Kickstarter.
Coffee Joulies should be available to the public later this summer.
Images: Joulies.com
Filed under: Chemical, e-News, Materials