Posted on
November 21st, 2011
by axb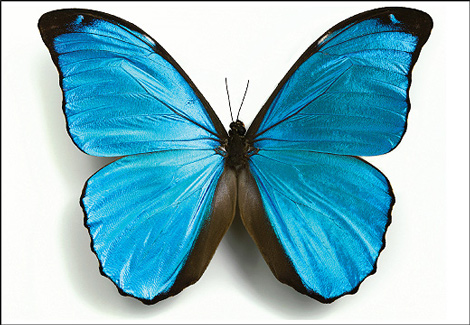 The wings of Costa Rica's beautiful blue morpho butterfly are so iridescent their shimmer can be spotted more than a half mile away. Yet they contain no pigments. Instead, they have nanostructures that reflect and refract wavelengths of light to produce the vivid blue hue.
Researchers at Canada's Simon Fraser University have developed a printing method that produces nanoholes 1,500 times thinner than a human hair that can, like the morpho's nanostructures, each trap a single light wave. The resulting 3-D images change color as they are moved, much like holograms. However, nanoholes are printed rather than fastened to materials, as are holograms. The process can be used to make banknotes more secure, since nanohole-derived images can't be copied.
The idea came from Clint Landrock, an applied sciences graduate student at Simon Fraser working under the guidance of Bozena Kaminska, a professor of engineering sciences. The anti-counterfeiting technology — called Nano-optic Technology for Enhanced Security (N.O.T.E.S.) — has been licensed to Nanotech Security Corp., which this fall unveiled a shim, or master die, it says can reproduce the nanoholes in banknotes and other materials, cost-effectively and in large volumes. Treasuries from around the world have expressed interest, and Nanotech says it is producing shims for several agencies for commercial trials. Can the fluttering of a butterfly's wings produce a hurricane half a world away? Perhaps not, but the blue morpho has unleashed a brainstorm that could prove a counterfeiter's bane.
Story originally appeared in the November 2011 issue of Prism magazine
Filed under: Computer, e-News, Materials
Tags: 3D, Biomimicry, Defense, Materials, Printing