Posted on
April 9th, 2010
by jxh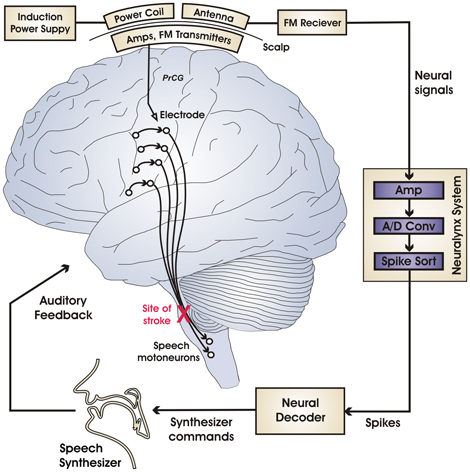 No one has conversed with Eric Ramsey since 1999, when a car crash paralyzed him, leaving his conscious mind trapped inside an unresponsive body. The rare condition is called locked-in syndrome, and it has left Ramsey unable to even blink. But now, scientists and engineers are helping him reconnect with the outside world.
Five years after the incident, scientists implanted a device in his brain linking it directly to a speech synthesizer.  After years of practice, Ramsey can now generate vowel sounds just by thinking of them.
Here's a video of the brain-computer interface prompting Ramsey, who then mimics the vowel sounds: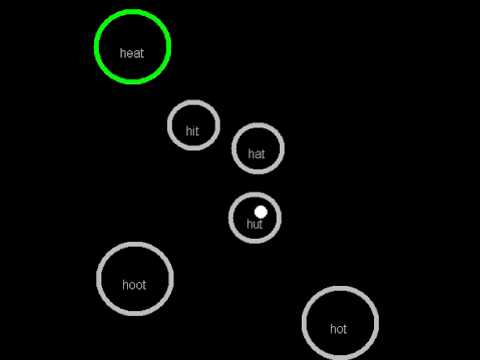 Instead of focusing on minute movement, which would allow Ramsey to communicate by typing words, the implanted device hones in on areas of the brain related to speech.  Forming words a syllable at a time works much faster than typing.
Though Ramsey can't yet sustain a conversation, scientists believe they may reach that level of sophistication within the next five years.
Other efforts are being explored as well to address the communication needs of people with locked-in syndrome or spinal cord injury include a simple brain-computer interface. Researchers using it recently succeeded in posting a message on Twitter.
With a 140 character maximum, a Twitter message is well within the reach of many locked-in users. At last, they may be able to communicate with their family and friends and share their experiences with the rest of the world.
More info and a great video about Ramsey can be found on this page.
Image:
Guenther FH, Brumberg JS, Wright EJ, Nieto-Castanon A, Tourville JA, et al. (2009) A Wireless Brain-Machine Interface for Real-Time Speech Synthesis. PLoS ONE 4(12): e8218. doi:10.1371/journal.pone.0008218
Filed under: Biomedical, Computer, e-News, Electrical
Tags: Biomedical, Computer, Electrical