Posted on
July 16th, 2010
by axb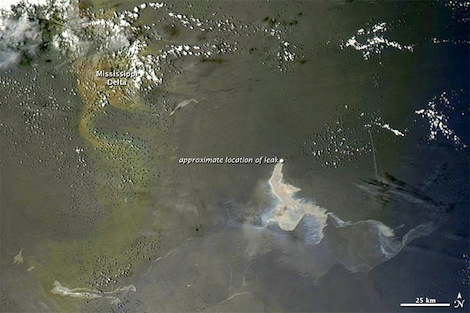 NASA satellite image of the oil slick from July 12, 2010
The New York Times is reporting that a cap placed yesterday on the exploded BP oil well appears to be holding steady. After the disastrous oil rig explosion on April 20 off the Gulf of Mexico, BP has struggled to find a solution to stop the deadly leak.
See this graphic for a timeline of previous attempts to cap the leak, and this video for views of the current containment apparatus.
Hopefully, engineers now can fully focus on cleanup efforts. Already researchers are pioneering new oil-water separation methods, and engineers like Eric Hoek are busy evaluating these technologies and putting them to good use.
Filed under: e-News, Environmental, Ocean
Tags: Environmental, Ocean