Posted on
March 23rd, 2010
by jxh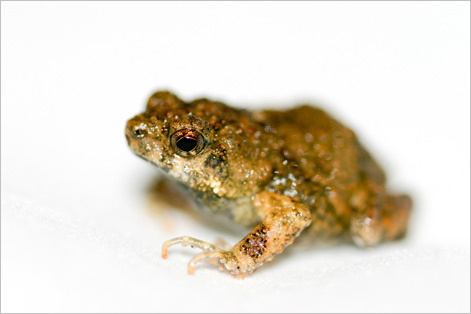 Who would have thought that frogs would inspire engineers to create new biofuels? Well, the Tungara frog, which resides in Central America, seems to have done just that.
The Tungara frog creates very long-lived foam nests for its newborn tadpoles. Engineers from University of Cincinnati, in yet another example of biomimicry, found the frogs' design inspirational and helpful in constructing an innovative artificial photosynthetic foam.
This new foam captures energy from the sun while removing excess carbon dioxide from the air to ultimately create biofuel.  The process is similar to natural photosynthesis, however, the artificial system can convert all of the solar energy into sugars, whereas plants and algae must use a lot of the energy for other functions such as reproducing. The foam can also be used in environments with high levels of carbon dioxide such as coal-burning power plants, which differs from natural plant systems where too much carbon dioxide shuts down photosynthesis.
[Physorg]
Image brian.gratwicke/Flickr
Filed under: Chemical, e-News, Environmental, Materials
Tags: Biomimicry, Chemical, Environmental, Mechanical