Posted on
February 2nd, 2010
by jxh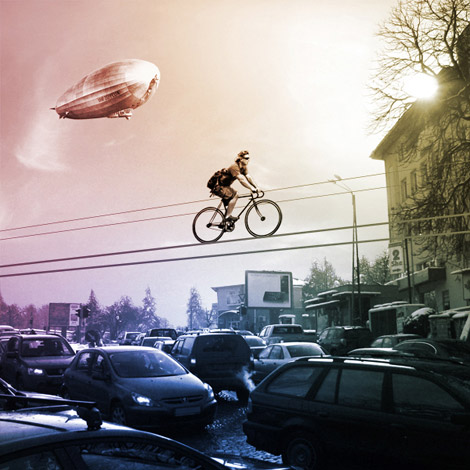 Imagine a highway in the sky. Now imagine that you are riding a bike instead of driving a car. That is the idea behind the concept Kolelinia.
Kolelinia is a transportation system designed to allow bikers to pedal above street traffic on steel wire bicycle lanes, offering a different view than biking on the ground.
Designed by Bulgarian architect Martin Angelov, the bike lane will feature two elements: a half-pipe, where your bike's wheels would run, and a cable above that pipe. The cable would be the same height as your bike's handles to provide stability and safety. The cable would also connect to your bike's handle using a special hooking device, which would also have a hole for a carabiner to use a harness and safety line for extra protection.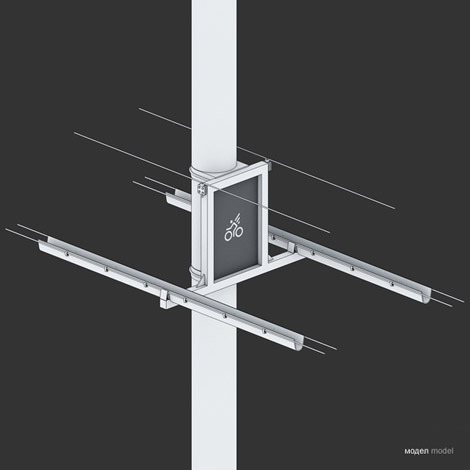 To ride in the sky you would approach the entrance, put your bike tires into the half-pipe, and attach your handle to the safety wire. After getting onto the lane, riding your bike would be no different than riding on pavement.
Angelov believes that the concept can be installed using a minimal amount of resources and would be safer than driving on a highway and more time and energy efficient than getting stuck in traffic.
A few details still need to be worked out though, such as how to pass fellow cyclists moving too slowly and whether it should be oriented more for commuters or tourists. But overall Kolelinia sounds pretty cool.
Images from Martin Angelov/Kolelinia
Filed under: Civil, e-News, Transportation
Tags: Civil, Transportation