Posted on
January 18th, 2011
by jxh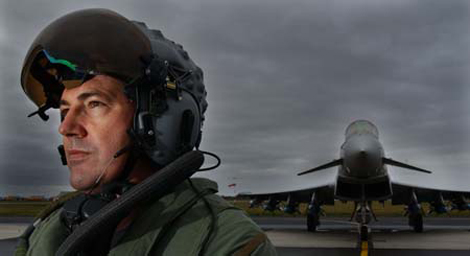 Thanks to a revolutionary new helmet, fighter pilots will be able to shoot down planes simply by looking at their enemies.
The Helmet Mounted Display (HMD), designed by BAE Systems for the Eurofighter Typhoon, has the ability to look at multiple targets, lock-on to them, and then prioritize them by voice-command. The pilot can even do this when looking at targets over the shoulder, or when an aircraft is directly underneath the Typhoon.
The helmet works by having a number of fixed sensors around the fighter jet's cockpit area. As the pilot moves his or her head, the sensors on the helmet move in relation to the sensors in the cockpit, ensuring the aircraft knows exactly where and what the pilot is looking at. Then, using Direct Voice Input (DVI), the pilot can communicate via a microphone on the helmet to designate the aircraft for attack.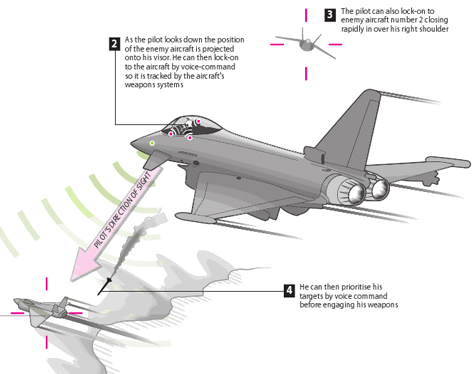 Click here or on the image for a cool infographic
The visor on the helmet can also project images containing information such as the speed, direction and altitude of the Typhoon, as well as the precise position of enemy aircraft and missiles. The imagery, which remains stable and accurate at all viewing angles, means the pilot can make rapid decisions without ever having to take his or her eyes off the target.
Finally, with the integration of Forward Looking Infra Red (FLIR) sensors, an enhanced picture of the outside world can be presented to the Eurofighter Typhoon pilot. Combined with night vision aids and head-mounted image intensifier sensors, the HMD will allow pilots to see at night and in all weather.
Images:
BAE Systems
Filed under: Aerospace, e-News, Electrical, Transportation
Tags: Aerospace, Electrical, Military, Transportation