Posted on
October 11th, 2011
by axb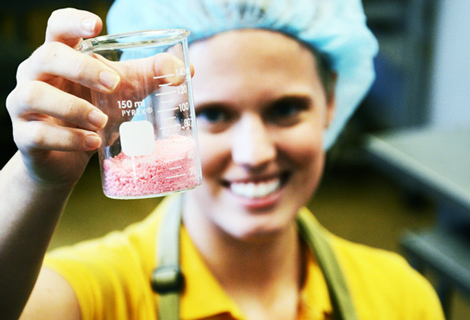 Liz Fenner with cherry-flavored microcapsules used to add a kick to vanilla ice cream
Ever felt paralyzed by the choice between two equally delicious ice cream flavors? Fear not – Elizabeth Fenner, a food science graduate student at the University of Missouri, may have solved your dilemma.
Fenner and associate professor Ingolf Gruen used a technique called "micro-encapsulation" to create ice cream that changes flavors as it melts in your mouth. The process, which has been used in long-lasting chewing gum and microwave dishes, involves "covering flavor compounds in wax, gelatin, protein, or food-grade polymer casing just millionths of a millimeter in size," reports University of Missouri news. Employing this technology in ice cream is more challenging due to the small amount of time it spends in people's mouths, and the fact that ice cream isn't chewed.
After experimenting with different polymers, Gruen and Fenner came across a special (now secret) ingredient that dissolves immediately inside the mouth and does not break apart during the mixing process. Fenner also found that compared to traditional flavored ice cream, the encapsulated variety keeps its original taste, texture, and color for up to twice as long.
Although a lucky group of taste-testers responded very positively to the vanilla with a cherry kick that the team brewed, there are as of yet no plans to make it available commercially. Here's hoping Ben & Jerry's takes notice.
Photo: Keith Montgomery/University of Missouri