Posted on
August 15th, 2010
by jxh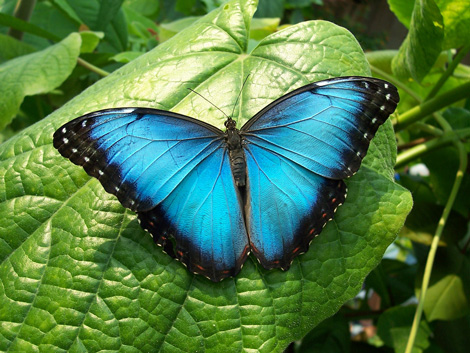 Biomimicry is back again, and this time butterflies are the source of imitation.
The Morpho butterfly possesses acute chemical-sensing abilities thanks to nano-level structures underneath the colorful scales on its wings.
The submicroscopic structures can pick up even the smallest trace of airborne chemicals and the exposure changes the spectral reflectivity of the butterfly's wings.
So, researchers at GE have been awarded a $6.5 million grant from DARPA to replicate those structures and develop sensors that can detect explosives, chemical attacks, and diseases.
DARPA has requested highly accurate sensors that can pick out low concentrations of vapors in a chemically crowded atmosphere, and the GE engineers will be attempting to recreate the nanostructures from scratch.
The project will be a challenge. Since the engineers will have to use existing nanotechnology tools, their construction may not produce the desired results. But if the process is successful, the sensors could be designed to change color when a chemical or biological threat is detected. They could even be embedded in clothing.
They could also be spread out over a large area in order to identify any hiding or lingering substances. Outside of military use, these sensors could also be used to detect diseases on someone's breath, assess wounds, monitor pollution in the air, and maintain food safety.
Image: Izzy LeCours / Flickr
Filed under: Chemical, e-News, Materials
Tags: Biomimicry, Chemical, Defense, Materials, Nanotechnology