Posted on
June 22nd, 2011
by axb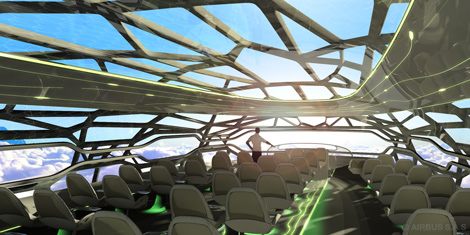 Have you ever wondered what air travel might look like in the year 2050? Aircraft manufacturers at Airbus have, and to them the future looks exceedingly bright (and comfortable).
Their new Concept Cabin, a futuristic design created for the 49th biennial Paris Air Show, features a transparent roof that can adjust its opacity, giving passengers a panoramic view of the skies. The streamlined web that supports this canopy will be made of a lightweight titanium modeled after bird bones. Airbus engineers even predict that much of the cabin will be able to be 3D printed.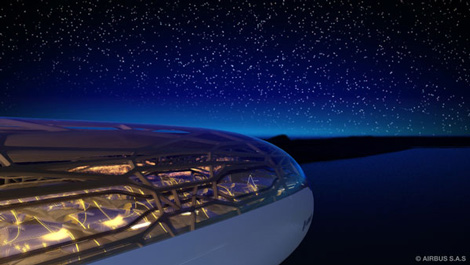 If endless skyways aren't enough of an upgrade, passengers will also enjoy seats that mold to their bodies and space themselves out when the plane is not full (unused seats will collapse), maximizing legroom. Touchscreens will be ubiquitous; a central "interaction area" can be transformed from a conference room into a 3D, Kinect-like gaming station.
While 2050 still seems distant, some of these advances may begin to make their way into modern aircrafts well before then.
Here's an animated tour of the plane no one would ever want to leave:
Would you fly in plane like this? What features would you add or subtract?
Images via Airbus
Filed under: Aerospace, e-News, Transportation
Tags: Aeronautics, Aerospace, Biomimicry, Transportation