Posted on
March 30th, 2010
by axb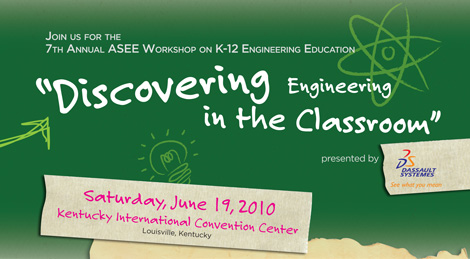 Join us for the 7th Annual ASEE Workshop
on K-12 Engineering Education
Presented by Dassault Systemes
"Discovering Engineering in the Classroom"
Saturday, June 19, 2010
8:00 a.m. – 4:30 p.m.
Kentucky International Convention Center
221 South 4th Street
Louisville, Kentucky 40202-2903
This day-long event is designed to introduce you and hundreds of local teachers and engineering educators from across the country to innovative, effective engineering education resources designed for the K-12 classroom. The workshop will equip you with the latest hands-on lessons, best practices, and tools for successfully implementing K-12 engineering education.
Thanks to the generous support of our sponsors, the workshop is
FREE to all K-12 teachers who register BY JUNE 4.
A $25 registration fee applies to all other attendees.
After June 4, registration for teachers is $25/person.
Who Should Attend?
– K-12 STEM educators, counselors and administrators
– Informal educators
– K-12 engineering education outreach staff
– Engineering educators and advocates
– ANYONE with an interest in engineering education
– All Workshop information and program details are subject to change.
– Please check our Facebook event page for the latest updates.
More Information
• Overview
• Call for Proposals
• Sponsorship Opportunities
• Sponsors
• Registration
• Program
* For more information, please contact Libby Martin, K-12 Meeting Coordinator, at: k12workshop@asee.org.
Filed under: e-News, K-12 Outreach Programs